Family Dental Clinic in Fort Saskatchewan, AB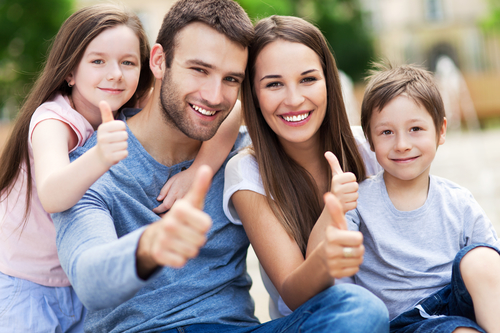 Wouldn't it be nice to have all of your family's oral health needs met under one roof?
Convenience aside, it is important for your children to observe their siblings and patients for over 20 years. During that time, we have forged countless relationships with families in our community. Whether you are bringing your child in for his or her very first dental visit, receiving a new dental crown, or simply having your teeth whitened, our family dental clinic offers comprehensive care for patients of all ages.
Patient-centric care
At Fort Dental Health Group, patient safety and patient comfort are our top priorities. Every day, our team of dentists and professionals commit to creating a welcoming environment – a place that is soothing, calming, and comforting. We believe that by cultivating a pleasant experience for our patients, they will have the best chance of enjoying optimal oral health. That is why we strive to treat every person with the respect and attention they deserve. We know what we would want for our own families, and that is the type of care we strive to deliver at our family dental clinic in the Fort.
Treatments in children's dentistry
We know that a lifetime of healthy habits begins at a young age. That is why we are committed to creating a fun, relaxed, and friendly atmosphere for your little ones. Our team takes the time to get to know your child and develop a trusting relationship, so they feel comfortable under our care. Routine dental cleanings and examinations are an excellent way to monitor your child's oral health, and keep their teeth and gums looking great. During these appointments, we may recommend preventive care treatment such as dental sealants or fluoride to help keep cavities at bay. If your child exhibits any early signs of tooth decay, we will help you understand their options.
We can address a variety of needs at our family dental clinic
No matter your situation, we can help you achieve and maintain a healthy smile. Some of the most common services we provide include:
Restorative treatments: If you have sustained dental damage or decay, we offer a wide range of treatments in restorative dentistry. From tooth-coloured fillings to crowns and dental implants, we can help you restore the function, health, and aesthetics to your smile.
Cosmetic dentistry treatments: Even patients with healthy teeth and gums may be dissatisfied with certain aesthetic elements of their smile. We offer a number of cosmetic treatments to help bring balance, symmetry, and beauty to your smile, including porcelain veneers, laser gum re-contouring, and teeth whitening.
Periodontal therapy: Gum disease can wreak havoc on your smile if it remains untreated, leading to deep periodontal pockets, mobility, and tooth loss. Periodontal therapy reduces bacteria and infection for a healthier smile.
TMJD and bruxism treatment: If you suffer from teeth grinding or chronic jaw pain, we can fabricate a custom mouth guard to help alleviate your symptoms and improve your dental health. We also offer other treatment options for TMJD.
Sleep apnea treatment: If you suffer from chronic fatigue, headaches, or lack of concentration, you may be experiencing sleep apnea. Those who suffer with this condition may find relief through a custom oral appliance, which can position the jaw more favourably, and prevent the soft tissues from obstructing the airway.
Sedation Dentistry
Often people experience some level of nervousness or anxiety when it comes to dental care. At our practice, we offer options in sedation dentistry to help keep you comfortable during your appointment. While sedation won't be necessary for everyone, it can be an incredibly helpful tool for those who avoid dental appointments due to anxiety.
Learn more about our family dental clinic in Fort Saskatchewan, AB
If you are looking for a family dentist in Fort Saskatchewan, we sincerely hope you will consider booking an appointment at Fort Dental Health Group. As always, our team is available to answer any questions you may have about your treatment. You can contact us online or call our office at 780.998.7165.