Are You a Candidate for Porcelain Veneers?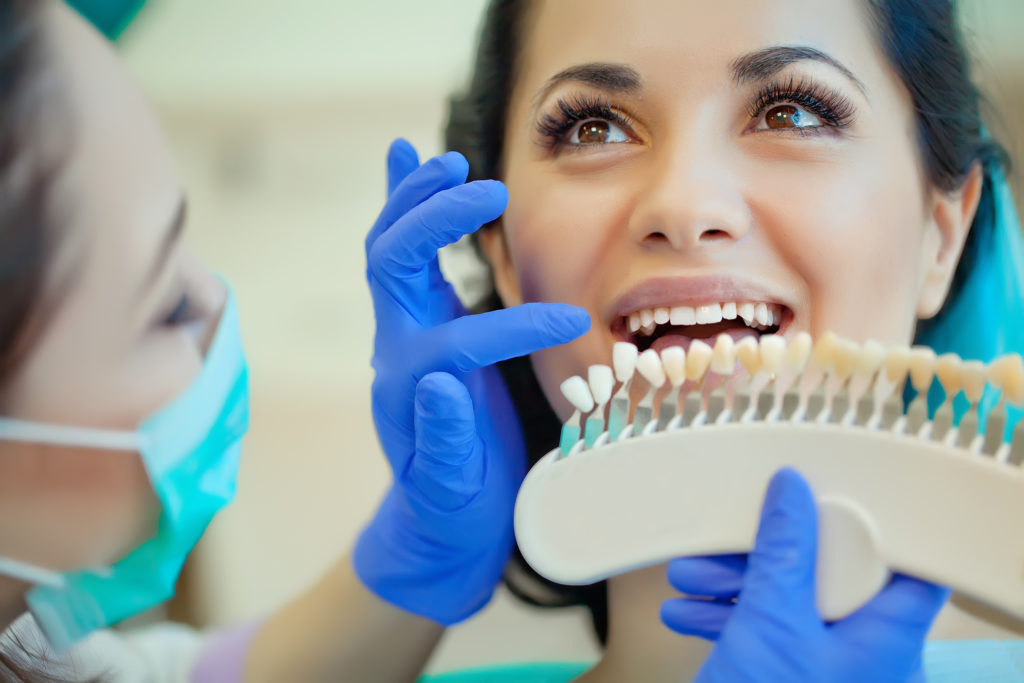 Despite impeccable oral hygiene, many patients have one or two aesthetic elements that they dislike about their smile. After all, misshapen, chipped, or discoloured teeth can detract from an otherwise beautiful appearance. Fortunately, our dentists at Fort Dental Health Group in Fort Saskatchewan, AB offer porcelain veneers, which can conceal certain cosmetic imperfections for a more uniform appearance. Today, we will discuss candidacy and explore the types of issues that can be addressed with tooth veneers.
An overview about tooth veneers
Wafer-thin and custom-crafted, veneers are tooth-shaped shells that fit over the front surfaces of the teeth. In most cases, veneer placement can be completed in two appointments: one to prepare the teeth and take impressions, and one to place your final restorations. The average life span of a dental veneer is approximately 10 to 15 years with proper care and maintenance.
What cosmetic issues can dental veneers address?
Tooth veneers are one of the most versatile cosmetic treatments in dentistry. They can camouflage an array of aesthetic flaws, including:
Chipped teeth: A chipped tooth can make your smile look jagged or incomplete. Placing a veneer over a chipped tooth can provide a more pleasing aesthetic result and restore the tooth to its original shape and size.
Cracked or fractured teeth: Wear, tear, or excessive force can lead to the development of hairline fractures – or craze lines – in the teeth. Dental veneers can conceal these imperfections. It is important to note, however, that if your cracked teeth are due to bruxism, a custom mouth guard should be considered before pursuing veneers.
Tooth discolouration: Did you know there is a specific type of dental staining that does not respond to teeth whitening? Intrinsic stains are caused by genetic conditions, trauma, or certain medications. This type of discolouration is deep within the layers of a tooth. Therefore, veneers are far more effective for treating this kind of staining.
Gaps or spacing between the teeth: Do you have spaces in your smile? Some patients love their gaps, as they express their individuality. However, not everyone feels the same. Those who wish to close down the spaces between their teeth can opt for dental veneers.
Slight misalignment: Believe it or not, in some cases veneers can mask a tooth that is slightly out of alignment. When the restoration is placed, it can make the tooth appear flusher to the adjacent teeth. This is typically only recommended for minor cases of misalignment. More complex cases may require orthodontic treatment to achieve the desired results.
How do I know if I qualify for dental veneers?
If any of the aforementioned conditions apply to you, veneers could be an excellent treatment option. However, patients considering porcelain veneers must be free from gum disease and tooth decay, as oral infection can impede the outcome of treatment. If these conditions are present, we will address those first, then pursue cosmetic treatment at a later time. Of course, the surefire way to know if you are eligible for dental veneers is to have a professional dental consultation. During your initial visit, your dentist will review your dental and medical history and assess your teeth and gums. No matter what your needs, we can help design a personalized treatment plan to achieve the results you desire.
Learn more about veneers at Fort Dental Health Group
If you are looking for ways to enhance your smile, porcelain veneers could be the solution for you. To explore your options, schedule a consultation at our Fort Saskatchewan, AB dental clinic. Contact us online anytime or call our office at 780.998.7165.